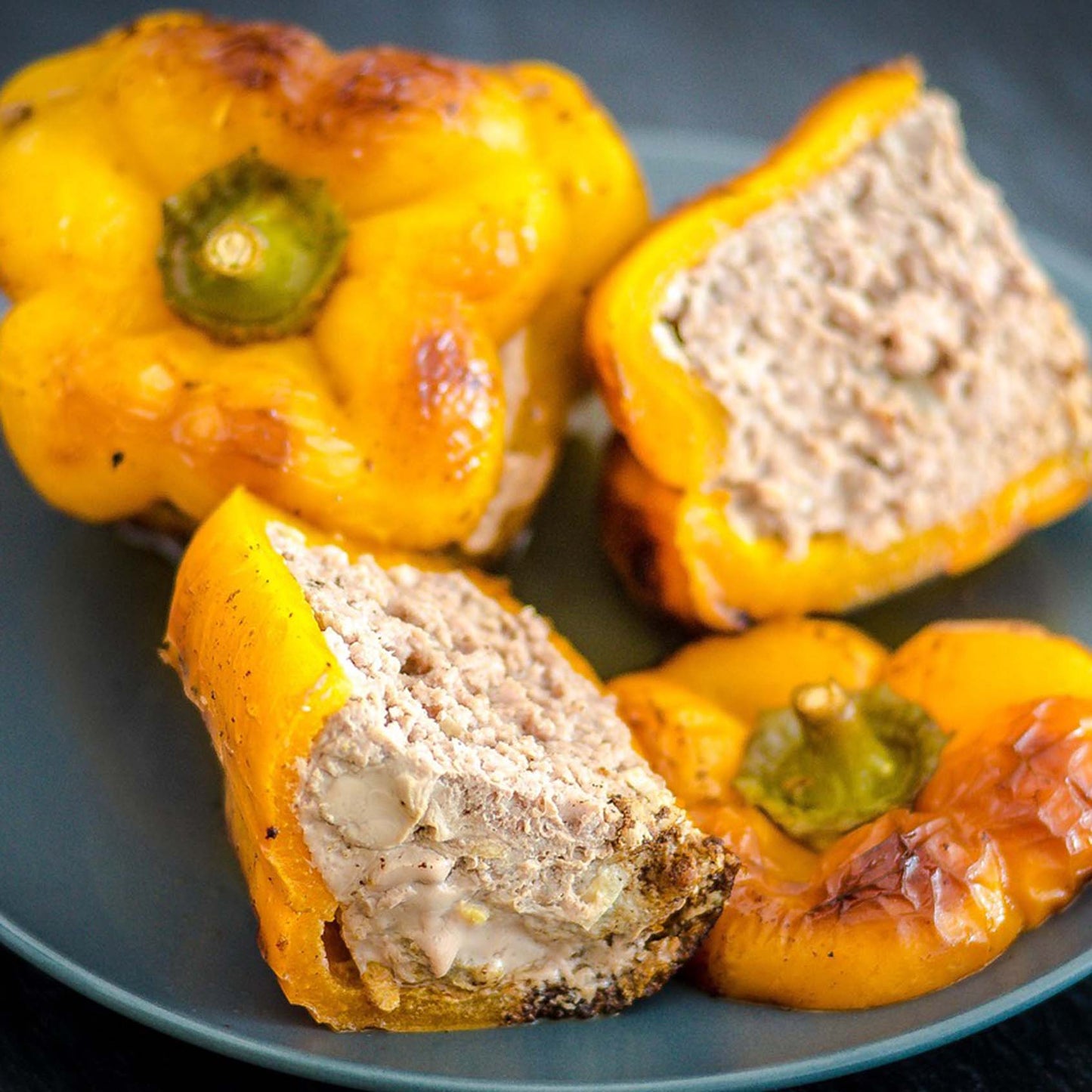 Welcome to the world of gastronomic delights, where the spotlight is on the delectable combination of Mushroom and Walnut Stuffed Bell Peppers. In this article, we delve into the art of creating this mouthwatering dish, exploring diverse facets from recipes to nutritional benefits. Let's embark on a culinary journey that promises to tantalize your taste buds.
What Makes Mushroom and Walnut Stuffed Bell Peppers Irresistible?
Unveiling the Ingredients
Unearth the secrets behind the perfect fusion of mushrooms, walnuts, and bell peppers. Each ingredient plays a crucial role in creating a harmonious blend of flavors and textures.
Culinary Symphony: Cooking Techniques
Master the cooking techniques that transform these humble ingredients into a culinary masterpiece. From sautéing mushrooms to roasting walnuts, we unravel the steps for a flawless execution.
Health Boost in Every Bite
Explore the nutritional benefits packed into Mushroom and Walnut Stuffed Bell Peppers. This section sheds light on the health perks, making it not just a treat for the taste buds but also a nourishing choice.
Mushroom and Walnut Stuffed Bell Peppers Recipes
Ingredients:
4 large bell peppers (any color)
1 cup mushrooms, finely chopped
1/2 cup walnuts, chopped
1 cup cooked quinoa or rice
1 small onion, finely chopped
2 cloves garlic, minced
1 teaspoon dried thyme
1 teaspoon dried oregano
Salt and pepper to taste
1 cup tomato sauce
1/2 cup shredded cheese (optional, for topping)
Instructions:
Preheat the oven to 375°F (190°C).
Cut the tops off the bell peppers and remove the seeds and membranes. If needed, trim the bottoms slightly to make them stand upright in a baking dish.
In a large skillet, heat a bit of oil over medium heat. Add the onions and garlic, sautéing until they become translucent.
Add the chopped mushrooms to the skillet and cook until they release their moisture and become golden brown.
Stir in the chopped walnuts, cooked quinoa or rice, dried thyme, dried oregano, salt, and pepper. Cook for an additional 2-3 minutes, allowing the flavors to meld.
Spoon the mushroom and walnut mixture into each of the bell peppers, pressing down gently to pack the filling.
Pour tomato sauce over the stuffed peppers, and if you'd like, sprinkle shredded cheese on top.
Place the stuffed peppers in a baking dish and cover with aluminum foil.
Bake in the preheated oven for 25-30 minutes, or until the peppers are tender.
Remove the foil and bake for an additional 5-10 minutes, allowing the cheese to melt and turn golden brown.
Carefully remove the stuffed peppers from the oven and let them cool for a few minutes before serving.
Enjoy your Mushroom and Walnut Stuffed Bell Peppers!
Elevating the Experience: Tips and Tricks
Presentation Matters
Learn the art of presentation to make your Mushroom and Walnut Stuffed Bell Peppers visually appealing. Impress your guests with a dish that looks as good as it tastes.
Wine Pairing Suggestions
Elevate your dining experience with the perfect wine pairings for Mushroom and Walnut Stuffed Bell Peppers. Discover the synergy that enhances the overall enjoyment of this culinary creation.
Time-Saving Hacks
For the busy cooks, we've got you covered! Uncover time-saving hacks without compromising on the quality of your Mushroom and Walnut Stuffed Bell Peppers.
Exploring Variations: Beyond the Classic Recipe
Vegan Twist
Delight in a plant-based version of Mushroom and Walnut Stuffed Bell Peppers. Perfect for vegans and those seeking a lighter alternative without compromising on flavor.
Mediterranean Fusion
Take a culinary trip to the Mediterranean with a unique fusion recipe. Infuse new flavors and spices into your Mushroom and Walnut Stuffed Bell Peppers for a delightful twist.
Mushroom and Walnut Stuffed Bell Peppers: A Crowd-Pleaser
Family Favorites
Discover how this dish has become a staple in family gatherings. Hear stories of how Mushroom and Walnut Stuffed Bell Peppers have earned their place as a crowd-pleaser.
FAQs
Q: Can I prepare Mushroom and Walnut Stuffed Bell Peppers in advance? Absolutely! Prepare the stuffing ahead and refrigerate. Stuff the bell peppers just before baking for a fresh taste.
Q: Are there alternatives to walnuts for allergies? Certainly! Pinenuts or almonds can be excellent substitutes for walnuts, maintaining the crunch and flavor.
Q: How do I make the dish spicier? Kick up the heat by adding red pepper flakes to the stuffing or choosing spicy varieties of bell peppers.
Q: Can I freeze Mushroom and Walnut Stuffed Bell Peppers? Yes, they freeze well. Ensure proper wrapping to maintain texture, and enjoy a quick meal anytime.
Q: Are there gluten-free variations available? Certainly! Opt for gluten-free breadcrumbs or quinoa as a substitute for a gluten-free version.
Q: What are the recommended side dishes? Pair with a light salad or couscous for a well-balanced meal. The versatility of Mushroom and Walnut Stuffed Bell Peppers makes them compatible with various sides.
Conclusion
As we conclude our gastronomic exploration, it's evident that Mushroom and Walnut Stuffed Bell Peppers are more than just a dish; they're a culinary adventure. Whether you're a seasoned chef or a home cook, let this guide be your companion in creating a masterpiece that delights both the palate and the soul.