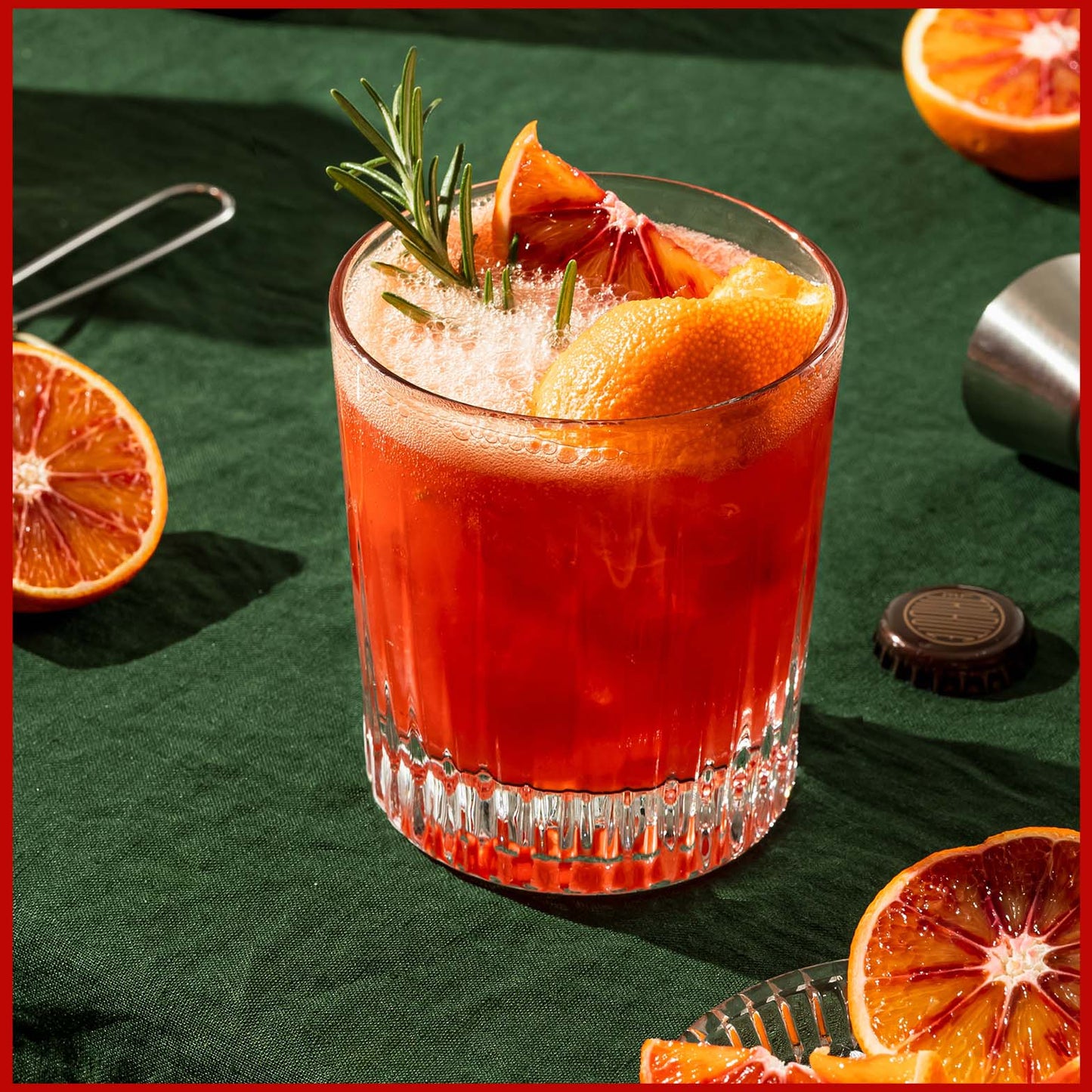 Transport your tastebuds with these refreshing and warming hibiscus tea blends perfect for any season. Hibiscus tea's tart, cranberry-like flavor profile pairs wonderfully with sweet and savory ingredients. The vibrant red tea is loaded with vitamin C and antioxidants too. Use it as the base for these creative hot and iced tea recipes. Try the Hibiscus Apple Cider Tea for cozy fall days, the Hibiscus Tea Sangria for your next summer soirée, or Iced Hibiscus Berry Tea to cool down on a hot day. The floral, tangy hibiscus tea takes on new dimensions when blended with spices, fruit juices, wine, and more. Make a batch of these tantalizing hibiscus tea recipes and enjoy their aromas, beautiful colors, and wellness benefits.
Warming Hibiscus Apple Cider Tea
This aromatic apple cider and hibiscus tea blend is the perfect cozy beverage for chilly winter days.
Ingredients:
3 cups boiling water
3 hibiscus tea bags
1 cup apple cider
1 cinnamon stick
1 orange, sliced into rounds
1 tablespoon honey (optional)
Instructions:
Bring 3 cups of water to a boil. Add the hibiscus tea bags and let steep for 5 minutes to extract the floral flavors and bright red color.
Remove tea bags and stir in 1 cup of apple cider. For richer flavor, warm the cider first before adding to the hibiscus tea.
Add a cinnamon stick and 2-3 slices of orange to infuse spice and citrus notes.
Sweeten with 1 tablespoon of honey if desired.
Serve warm and enjoy this vitamin C-rich tea on chilly winter nights. Garnish with an extra orange slice.
Spiced Hibiscus Chai Tea Latte
Warm up with the flavors of chai in this creamy hibiscus tea latte.
Ingredients:
2 cups water
2 hibiscus tea bags
1 cup milk of choice
1 tablespoon honey
1/2 teaspoon cinnamon
1/4 teaspoon cardamom
1/4 teaspoon ginger
Pinch of clove
Instructions:
Bring 2 cups of water to a boil and add 2 hibiscus tea bags. Allow to steep for 5 minutes.
Remove tea bags. Add milk, honey, and spices like cinnamon, cardamom, ginger, and clove.
Using a milk frothier or blender, blend or foam the spiced milk mixture until frothy.
Reheat hibiscus tea mixture and pour into mugs.
Top with the frothed spiced milk. Dust with a pinch more cinnamon or cardamom.
Sip this warming chai-inspired hibiscus latte and enjoy the sweet, milky flavors.
Hibiscus Tea Sangria
This refreshing sangria features hibiscus tea as the star ingredient.
Ingredients:
3 cups boiling water
3 hibiscus tea bags
1 bottle (750ml) red wine
1/4 cup brandy
1 orange, sliced
1 lime, sliced
1 apple, cored and sliced
1 cup club soda
Instructions:
Brew 3 hibiscus tea bags in 3 cups boiling water for 5 minutes.
Remove tea bags and allow tea to cool.
In a large pitcher, combine the cooled hibiscus tea, 750ml bottle of red wine, 1/4 cup brandy, sliced orange, lime, and apple.
Refrigerate for 2-4 hours to allow flavors to develop.
Before serving, add 1 cup of club soda for light effervescence.
Serve sangria over ice and garnish with an orange slice.
The floral hibiscus pairs perfectly with the fruit flavors in this cocktail. It's lively and refreshing!
Iced Hibiscus Berry Tea
Quench your thirst with this fruity iced hibiscus tea sweetened with ripe berries.
Ingredients:
3 cups boiling water
1 cup raspberries
1 cup blueberries
2 tablespoons honey
Ice cubes
Instructions:
Steep 3 hibiscus tea bags in 3 cups just-boiled water for 5 minutes.
Remove tea bags and allow tea to cool completely.
In a blender, puree 1 cup each of raspberries and blueberries with 2 tbsp honey until smooth.
Pour berry puree into cooled hibiscus tea and stir to combine.
Refrigerate hibiscus berry tea for 2-4 hours until well chilled.
Serve in tall glasses over ice. Garnish with extra berries.
The natural sweetness of the berries complements the hibiscus tea wonderfully.