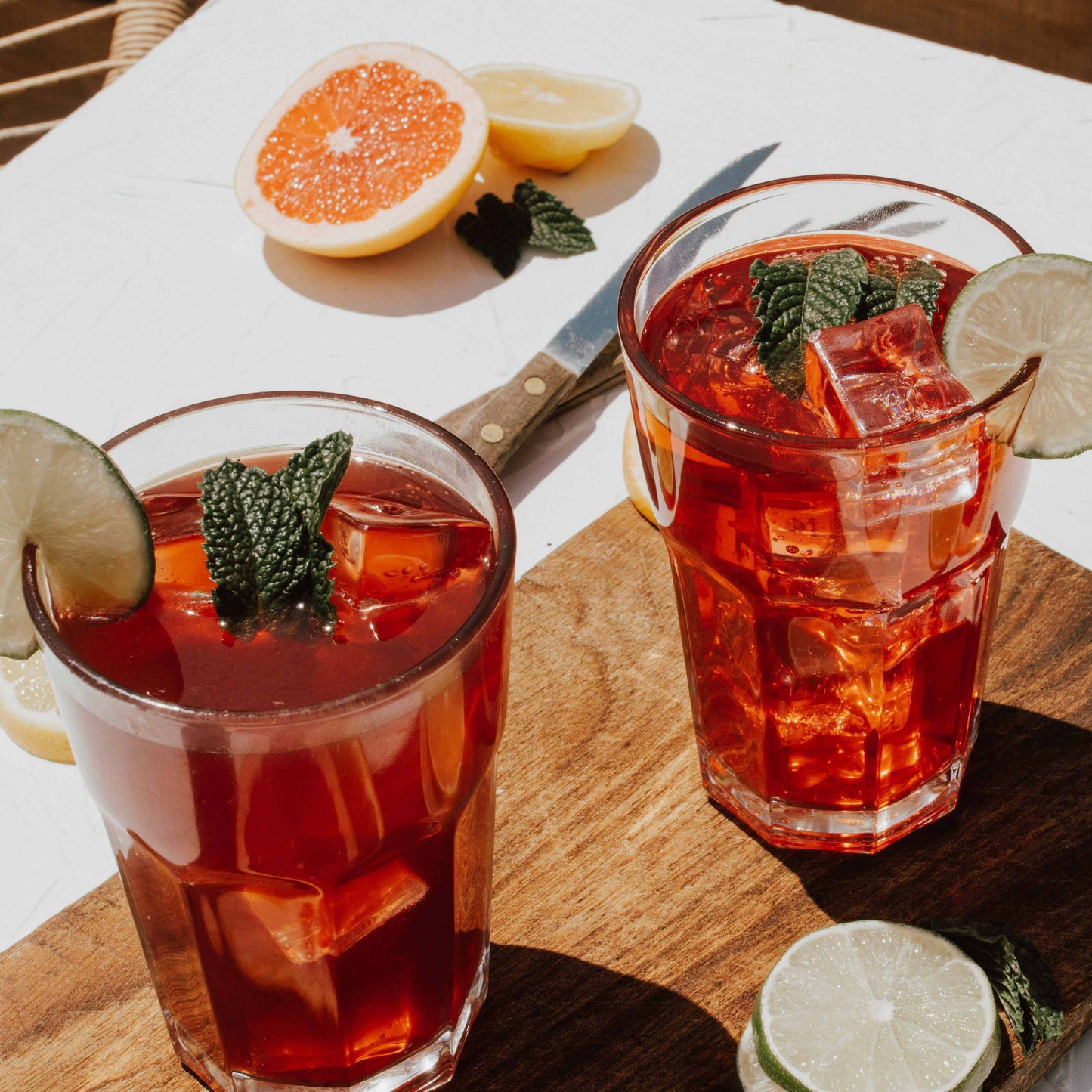 Summer is a season cherished by many, offering a break from the chilly winds and a chance to bask in the warmth of the sun. It's a time for outdoor activities, vacations, and, of course, indulging in refreshing beverages. One such drink that perfectly complements the summer vibe is iced tea. And what better way to elevate your iced tea experience than by exploring unique flavors like butterfly pea flower tea, lemongrass tea, chamomile tea, and hibiscus tea? In this article, we will delve into the world of these delightful teas, their benefits, and how you can enjoy them as a refreshing treat during the summer season.
Benefits of Butterfly Pea Flower Tea
Let's start our journey with the mesmerizing butterfly pea flower tea. Originating from Southeast Asia, this enchanting tea derives its name from the vibrant blue petals of the butterfly pea flower. Apart from its visually appealing nature, butterfly pea flower tea offers several health benefits. It is rich in antioxidants and has been traditionally used to promote vitality and overall well-being. When brewed as an iced tea, it offers a crisp and invigorating flavor, making it a perfect choice for hot summer days.
Lemongrass Tea: A Summer Delight
Moving on to our next flavor, we have lemongrass tea. Known for its citrusy and refreshing taste, lemongrass tea is a delightful summer beverage. Native to tropical regions, lemongrass is not only renowned for its flavor but also for its potential health benefits. It contains compounds that may aid digestion, support the immune system, and provide relief from anxiety. Whether you choose to enjoy it hot or iced, lemongrass tea is a fantastic addition to your summer drink repertoire.
Chamomile Tea: A Soothing Summer Brew
When it comes to relaxation, chamomile tea takes center stage. This herbal tea is well-known for its calming properties and is often enjoyed before bedtime to promote better sleep. In addition to its soothing effects, chamomile tea boasts a gentle floral taste that complements the summer ambiance. As you unwind after a long day under the sun, a chilled glass of chamomile iced tea can be a perfect companion.
Hibiscus Tea: The Refreshing Floral Brew
Last but not least, let's explore the tangy and refreshing flavors of hibiscus tea. Made from the sepals of the hibiscus flower, this vibrant brew offers a delightful combination of tartness and floral notes. Apart from its invigorating taste, hibiscus tea is believed to have numerous health benefits. It may help lower blood pressure, support heart health, and provide a rich source of antioxidants. Sipping on a glass of chilled hibiscus iced tea can be a delightful way to stay hydrated and refreshed during the summer months.
Unique Iced Tea Blends
Why limit yourself to just one flavor when you can create unique iced tea blends? Experimenting with combinations of butterfly pea flower tea, lemongrass tea, chamomile tea, and hibiscus tea can unlock a world of refreshing possibilities. You can mix different teas together or even add fruits, herbs, or spices to enhance the flavor profile. Here are a few ideas to get you started:
Butterfly Lemonade Twist: Combine butterfly pea flower tea with freshly squeezed lemon juice and a touch of honey for a vibrant and tangy iced tea.
Soothing Chamomile Mint: Brew chamomile tea with a sprig of fresh mint leaves and let it cool for a refreshing and calming blend.
Tropical Hibiscus Punch: Create a tropical vibe by mixing hibiscus tea with pineapple juice, orange slices, and a hint of ginger for a zesty and revitalizing punch.
Feel free to experiment with different proportions and ingredients to find your perfect summer concoction!
Tips for Making the Perfect Iced Tea
To ensure you achieve the best possible flavor and experience, here are some tips for making the perfect iced tea:
Start with high-quality tea: Choose premium-grade tea leaves or tea bags to extract the best flavors.
Use fresh ingredients: Opt for fresh herbs, fruits, or spices to infuse the tea with natural and vibrant flavors.
Brew with care: Follow the recommended steeping times and water temperatures to avoid bitterness or weak flavors.
Sweeten and garnish creatively: Experiment with natural sweeteners like honey, agave syrup, or fruit-infused syrups. Add garnishes such as citrus slices, berries, or mint leaves for an extra touch of visual appeal.
By keeping these tips in mind, you can elevate your iced tea game and create a truly refreshing and enjoyable experience.
Conclusion
As the summer heat beckons, it's time to embrace the joy of iced tea. Whether you choose the alluring butterfly pea flower tea, the invigorating lemongrass tea, the soothing chamomile tea, or the tangy hibiscus tea, each sip will transport you to a realm of refreshment and relaxation. Explore the diverse flavors and blends mentioned in this article, and let your taste buds embark on a delightful journey. Cheers to a summer filled with the vibrant hues and invigorating flavors of iced tea!
FAQs (Frequently Asked Questions)
Can I mix different tea flavors together to create my own unique blend?
Absolutely! Mixing different tea flavors can lead to exciting and refreshing combinations. Feel free to experiment and find your favorite blend.
Can I sweeten my iced tea with something other than sugar?
 Of course! Natural sweeteners like honey, agave syrup, or stevia are excellent alternatives to traditional sugar, adding a touch of sweetness without overpowering the flavors.
Can I enjoy these teas hot instead of iced?
Certainly! While these teas are particularly refreshing when iced, you can still savor their flavors by enjoying them hot. Simply adjust the brewing method to suit your preference.
Are there any side effects or precautions to consider when consuming these teas?
While these teas are generally safe for consumption, it's always a good idea to consult with a healthcare professional if you have specific concerns or medical conditions.
Where can I find butterfly pea flower tea, lemongrass tea, chamomile tea, and hibiscus tea?
You can find these teas at local tea shops, specialty stores, or online retailers. Check out the link below for a recommended source!